HOSPITALITY: ATLAS MID-YEAR REPORT SHOWS DECREASE IN HOTEL DEVELOPMENT
https://www.sdbj.com/news/2022/aug/04/san-diego-county-sees-downward-construction-trend-/
San Diego is mirroring a statewide trend during the first part of 2022, according to the report, which said the number of hotels under construction up and down the state is decreasing.
Bob Rauch, a certified hotel administrator, CEO and president of RAR Hospitality and the person behind hotelguru.com, said there is also one more consideration about hotel building that is keeping investors a little skittish — that since the beginning of the COVID-19 pandemic in 2020, there has not yet been a full return to business travel or group travel.
Atlas Hospitality Group recently released a 2022 mid-year hotel development survey and report that shares the latest trends in California and shows the statewide dearth of development.
The report said that in the first part of this year, the number of hotels under construction in the state decreased 12%, from 132 to 116, and the number of new rooms under construction declined by 11%, from 17,962 to 15,958.
Only 29 new hotels opened in the first half of 2022 in California, a decline of 43% over the same period last year (51), and with half as many rooms – from 7,168 to 3,561. San Diego County opened just one hotel so far this year — the brick hotel in Oceanside, a boutique hotel that added 10 rooms to the county mix.
The number of hotels and rooms in planning in the state remained relatively stable as compared to 2021, the report said, with 1,248 hotels (vs. 1,240) and 162,831 rooms (vs. 163,904). San Diego County currently has 99 hotels and 14,426 rooms in planning.
Looking at Other Parts of California

Elsewhere in the state, Los Angeles County has 29 hotels and 3,984 rooms under construction – the most in the state – while Orange County has six hotels with 729 rooms under construction and San Francisco County has two hotels with 401 rooms under construction.
The LA region opened three hotels thus far this year and has 253 hotels and 35,593 rooms in planning. Orange County, which did not open a hotel in 2022, has 67 hotels and 12,271 rooms in planning. San Francisco, which also did not open a hotel in 2022, has 51 hotels and 6,265 rooms in planning.
In addition to the three LA area hotels and the brick in Oceanside, two hotels apiece have opened in Riverside and San Bernardino counties.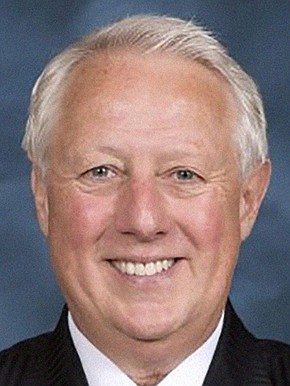 Alan Reay, president of Atlas Hospitality Group, cautioned not to put too much stock in early survey numbers, which while important, can be misleading.
"We have to be careful too much weight on the 6-month picture," Reay said. "It is more indicative at the year-end to look at market trends."
Reay said that at a lenders conference he attended, the two product types builders are shying away from are office buildings and hotels. As more people have continued to work from home because of the COVID-19 pandemic, the need for new office buildings is in flux.
He said that with recession concerns and rising interest rates, values are going to come down and that many projects are being deferred or abandoned.
The $1.35 billion Chula Vista Bayfront project, which includes the Gaylord Pacific Resort and Convention Center, may be one of the last of its kinds, considering what kinds of hotels are currently being planned and developed.
"I think it's going to be a long, long, long time before there's another one like it," Reay said. "I've seen a downplay of conventions and in the business market. The vast majority of new hotels are ones with limited service and 120 to 150 rooms. Places like the brick in Oceanside, that's the kind of product that sells."
Investors cannot afford to build economy motels, Reay said, and that means fewer choices for people traveling on a budget.
Economics 101

Reay said that looking at the economics of supply and demand, with fewer projects being built coupled with a number of hotels taken out of the mix and being used for emergency housing for homeless individuals through programs like Project Homekey, tourists are going to continue to feel the pain in their wallets.
"With fewer hotel rooms available, demand goes up, prices go up and for the traveler, that means more expensive costs for a room," Reay said.
Rauch said indications are that business travel will be back to 100 percent by 2023 and group travel by 2024. He said that even while businesses like Airbnb and Vrbo are still viable competition for travelers' needs, "they have some uncertainty we don't have."
"Those don't have cities behind them, many have opposed Airbnb and Vrbo," Rauch said. "Whereas nobody is shutting down hotels."
Rauch said that even with the lack of building of new hotels right now, there's not a great deal of concern overall. "The hotel industry is healthy and still has a lot of demand coming back beyond what we see currently," he said. "The delays in building right now will only have a short-term negative effect."